ILCA 2020 Virtual Conference Registration
19-21 August 2020
Live Sessions: 19 August 2020
On-demand sessions, exhibit hall and posters released: 20-21 August 2020
All content will be available for viewing through 18 November 2020.
The ILCA Virtual Conference will be hosted within the ILCA Knowledge Center. Based on your registration date, you will receive a link to the conference content as outlined below.
Register by 17 August 2020 at 4pmET - Login will be emailed on 18 August 2020
Register 17 August 2020 after 4pmET -19 October 2020 - Login will be emailed within 2 business days starting 24 August 2020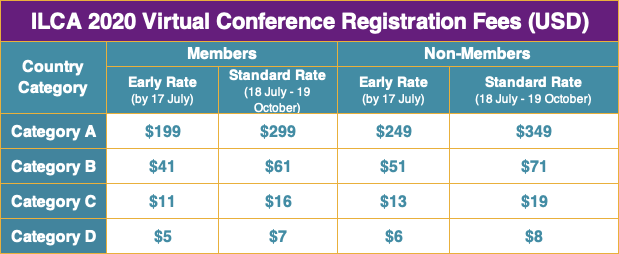 Attendance Policies
Media Disclaimer: ILCA will photograph or record conference events. By registering for the conference, you grant ILCA permission to record, photograph, use and distribute (both now and in the future) your image, name, voice, and typed comments in all forms and all media pertaining to this conference.
Cancellation and Refund Policy: All conference refund requests must be submitted by email to info@ilca.org or in writing and postmarked no later than 19 October 2020 for a full refund, less an US$80 processing fee. If the refund is approved, it will be processed after the completion of the conference. No refunds will be given for cancellations made after 19 October 2020. No refunds or credits will be given to those who do not attend any live sessions or view any of the recorded sessions.
Substitution Policy: Delegates may select a substitute in their place in lieu of requesting a refund upon prior notification to ILCA. Substitutions will not be allowed if any sessions have been viewed.
Special Circumstances: Refunds may be granted, at the sole discretion of ILCA, if a delegate is unable to attend the conference due to an extraordinary circumstance. ILCA must be notified immediately by letter or email. ILCA retains the right to request a physician note or other information related to the decision. Any refund (minus the processing fee) will be issued as soon as possible and no later than four (4) weeks after the conference has concluded. ILCA is not responsible for events beyond our control such as internet disruptions or equipment compatibility. No refunds will be given in these situations.
If you would like to mail in your registration, please complete a paper registration form.
Event Sponsored by: